Our Story
Located in the heart of Clifton Park, Wit's End draws shoppers from all across New York State and beyond! 
This woman-owned business opened in 1975, but our building, inventory, and selection have evolved steadily over the years without sacrificing attention to detail, elegance, and atmosphere. 
A Look Inside Wit's End
Indulge your senses and explore our treasure trove of fashion-forward delights. Come see us at Wit's End, where your style journey begins and where you'll find the perfect gift for every occasion!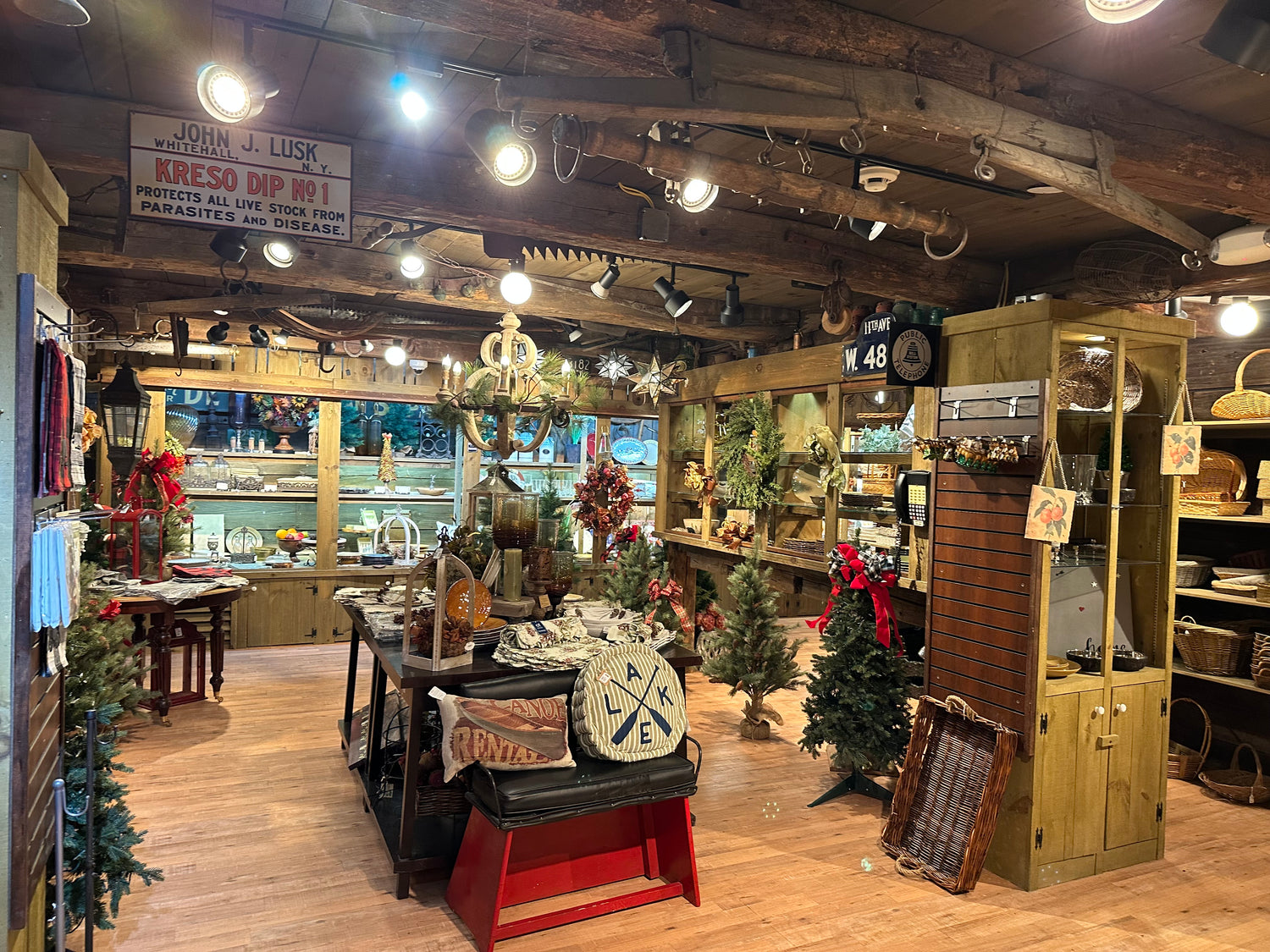 Barn
Whether you're seeking the perfect finishing touches for your lake house or searching for a unique gift to capture the spirit of the season, "The Barn" is a retreat of inspiration. Our knowledgeable staff is always on hand to offer personalized recommendations and share their expertise on creating a welcoming space that reflects your love for lake living.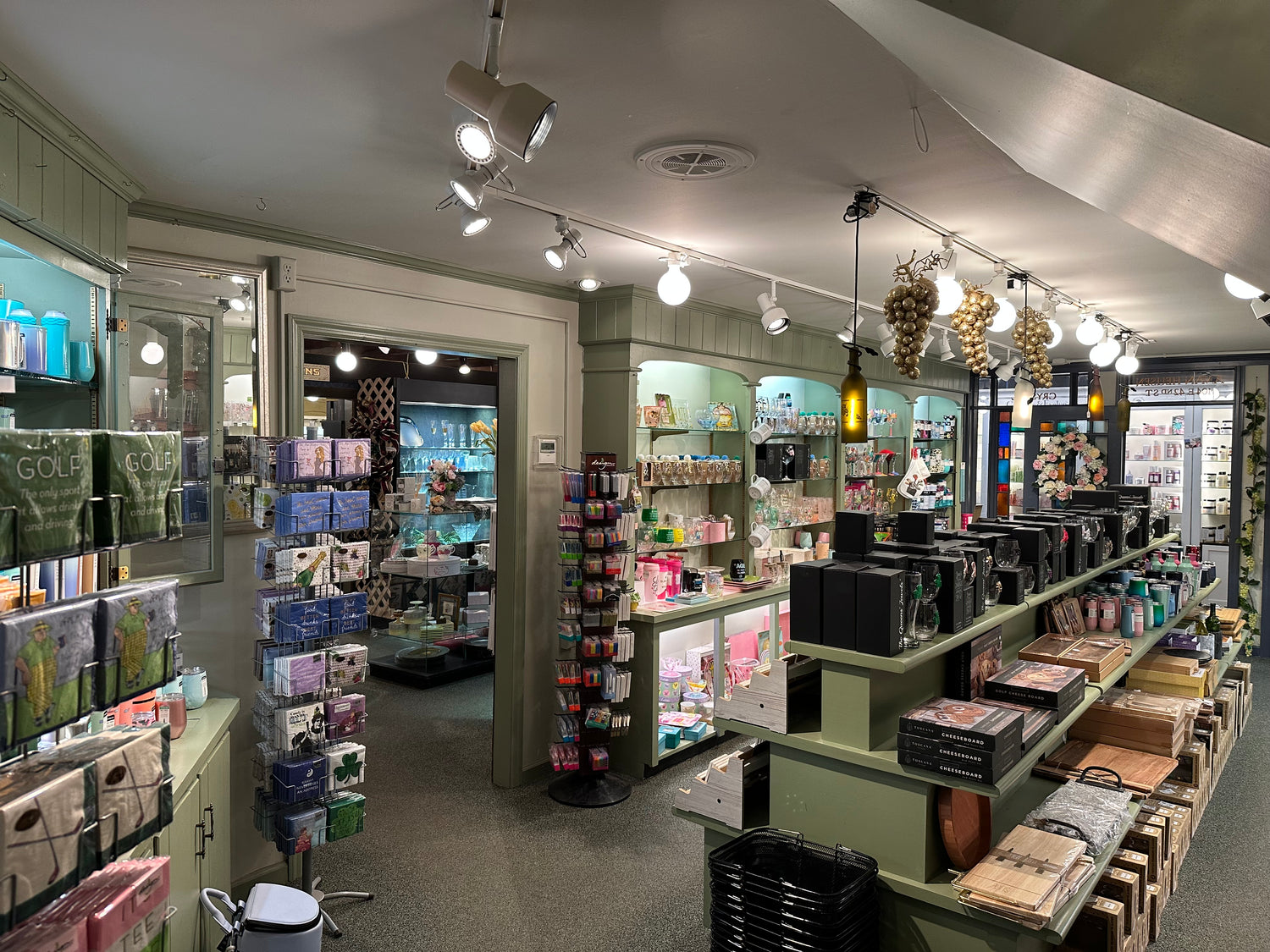 Beverage Room
A World of Elegance, Celebration, and Unforgettable Moments!  Here, you can immerse yourself in a haven dedicated to all things delightful and indulgent. This enchanting space is a treasure trove of exquisite wine glasses, tumblers, coasters, napkins, and an array of fun gifts tailored for memorable occasions such as bachelorette parties, Father's Day, and more. Explore our carefully curated selection of renowned brands, including Corkcicle, Lolita, and many others, designed to elevate your sipping experience and add a touch of whimsy to your celebrations.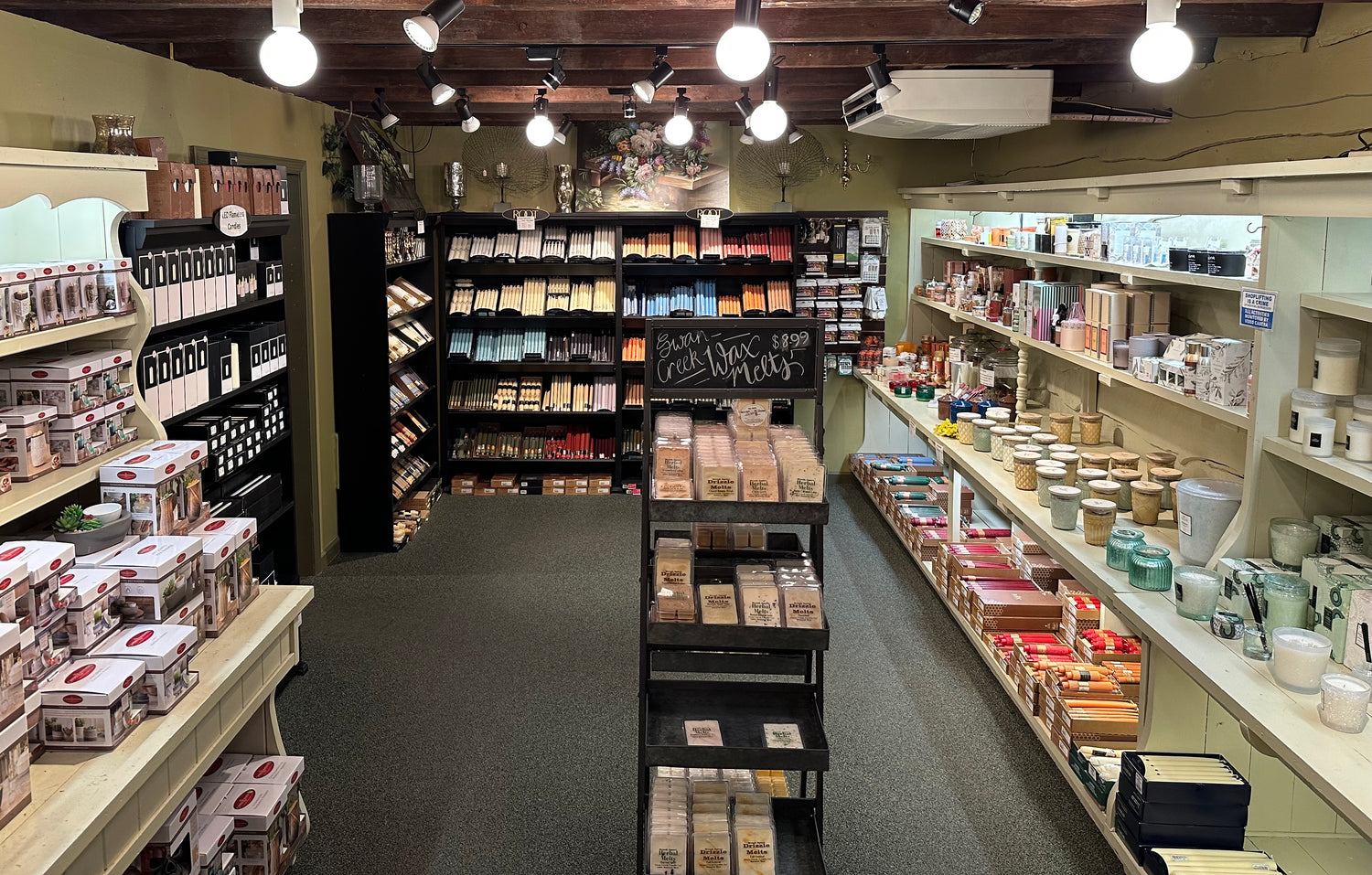 Candle Room
A sanctuary of enchanting scents. Prepare to be captivated by the inviting aromas that fill this oasis dedicated to candles. With an extensive collection featuring hundreds of candles, including votives, tapers, tea lights, and more, "The Candle Room" is the ultimate destination for those seeking to ignite their senses and create an ambiance of tranquility and beauty.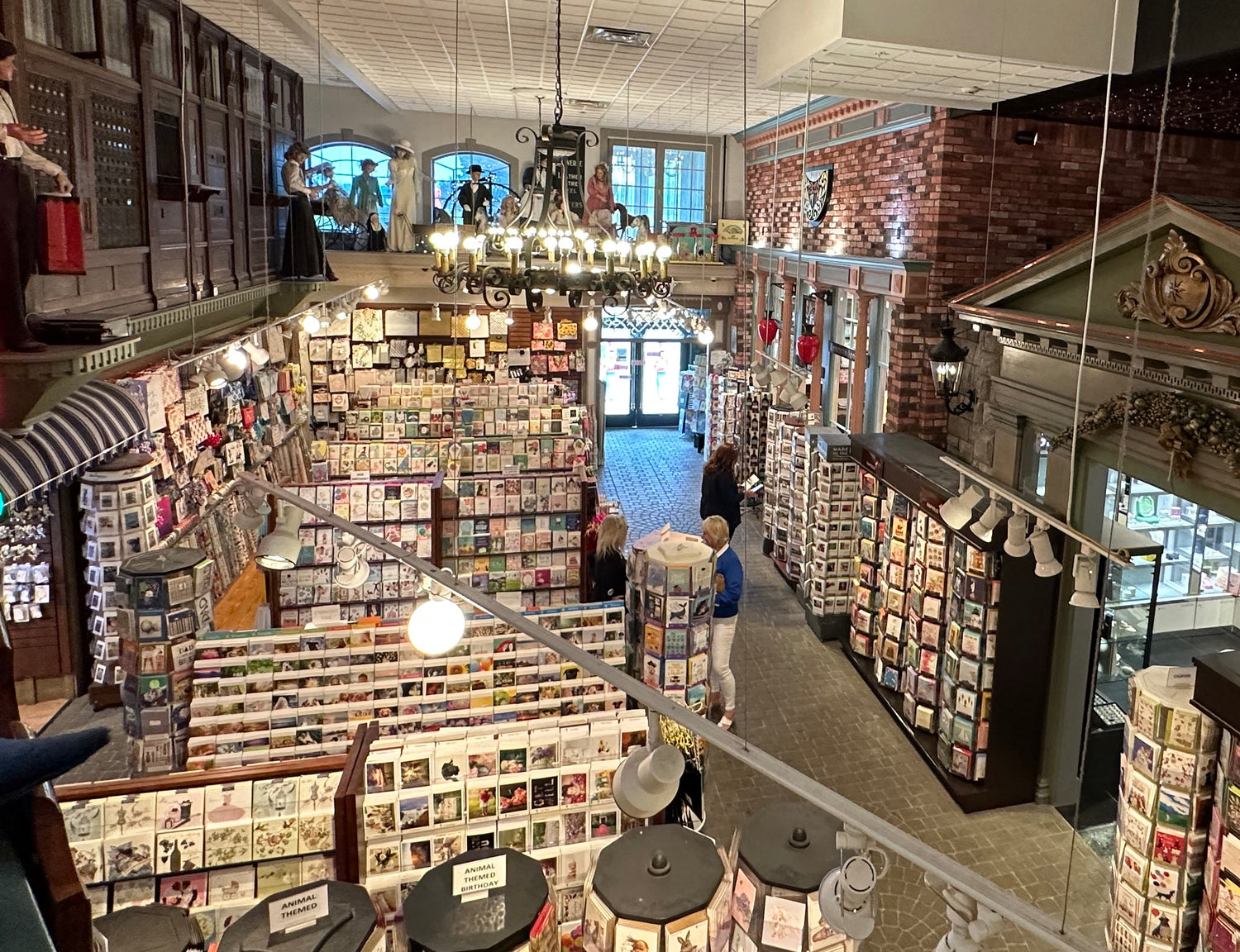 Card Room
As you enter "The Card Room," you'll be greeted by rows upon rows of shelves adorned with an extensive selection of cards, each one a miniature work of art waiting to be discovered. Whether you're celebrating a birthday, extending sympathy, or honoring a cherished mother on her special day, in this room you'll find the perfect sentiment to convey your thoughts and emotions.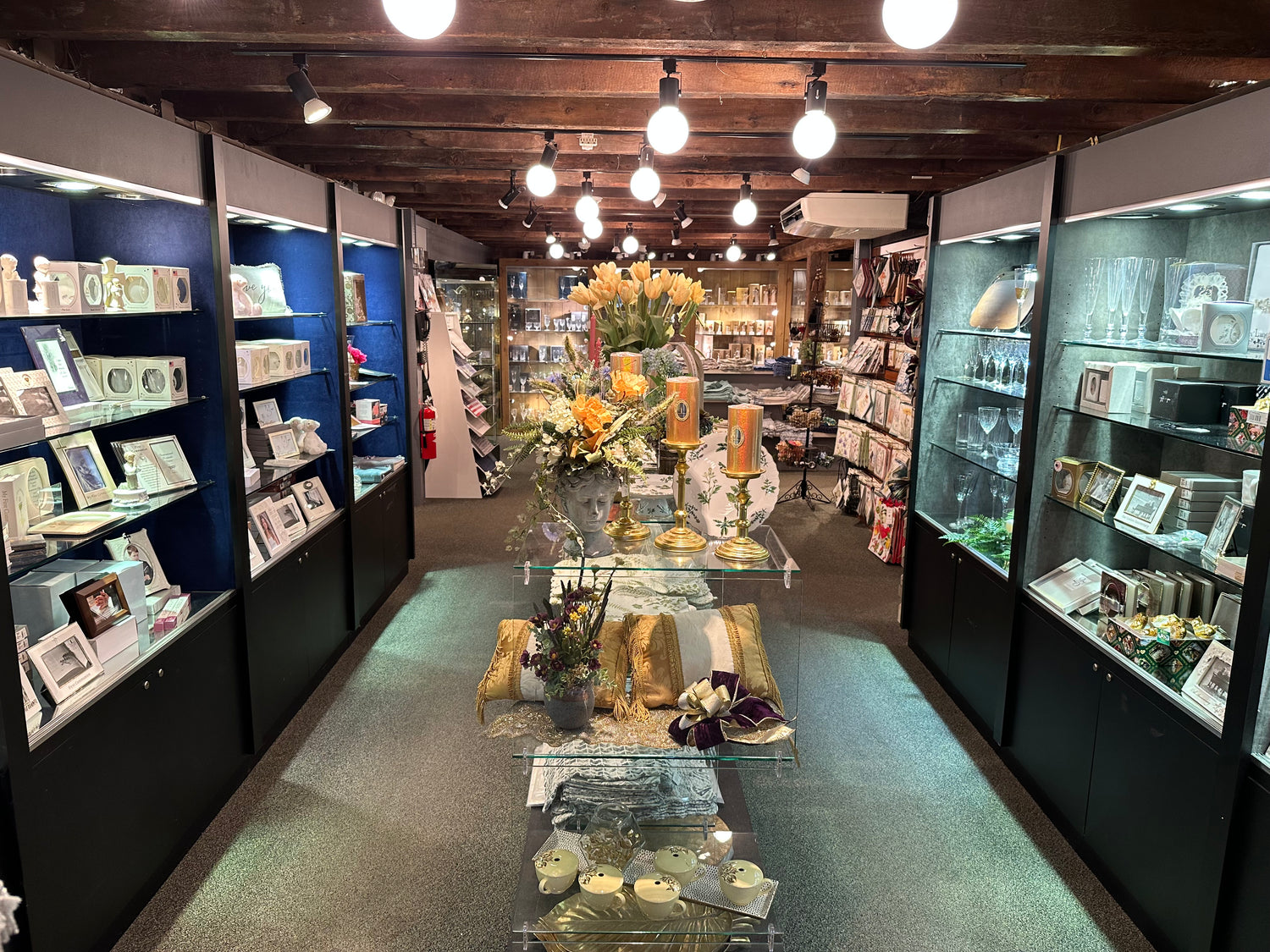 Collectible & Linen Room
A haven of refined elegance and timeless beauty. This enchanting space is dedicated to those seeking exceptional collectibles, luxurious linens, and exquisite gifts that embody both sophistication and craftsmanship. Explore our curated selection of tea sets, frames, fine linens, and more, featuring renowned brands such as Waterford Crystal and many others, designed to add a touch of opulence to your home and celebrate life's special moments.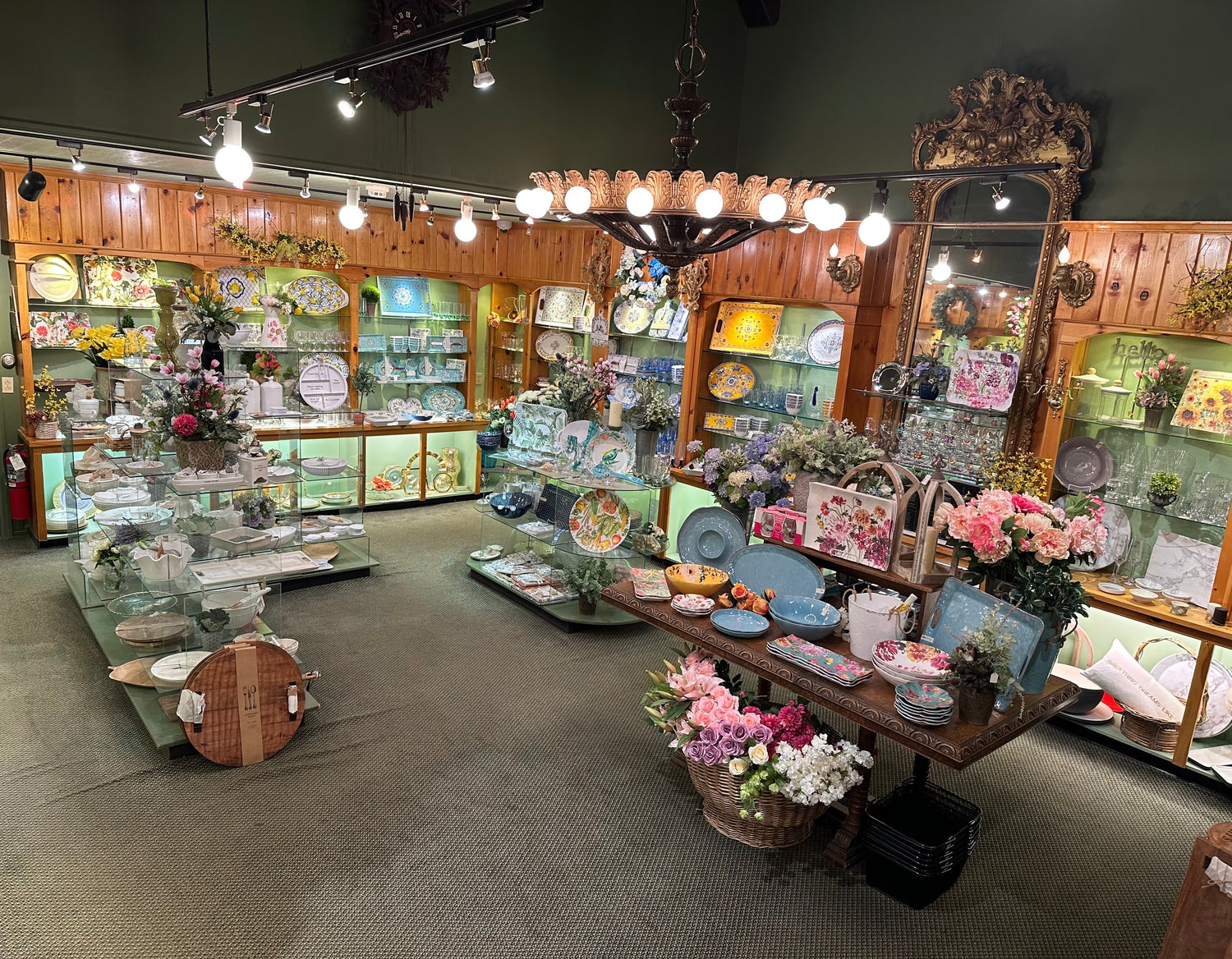 Entertaining Room
Where Memorable Gatherings Come to Life! This captivating space is a dream for those seeking to elevate their kitchen and dining room with a selection of exquisite dinnerware, napkins, centerpieces, flowers, and more. With renowned brands like Nora Fleming and other favorites, we have everything you need to create unforgettable moments of joy and connection.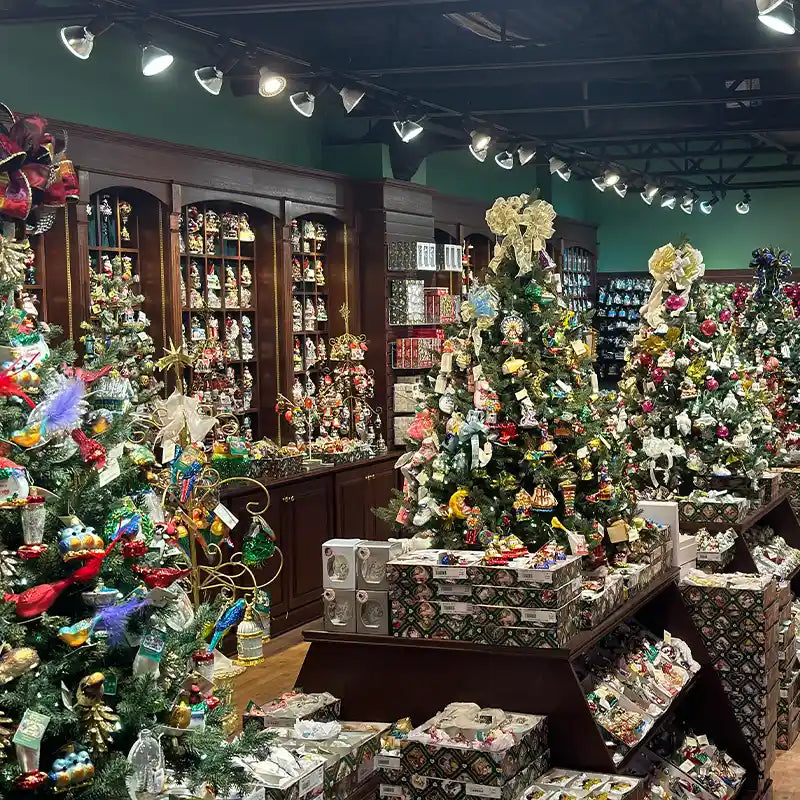 Ornament Loft
Nestled above the fashion floor, The Ornament Loft is a wonderland of everlasting holiday cheer. Overflowing with thousands of ornaments from beloved brands like Old World Christmas, this enchanting room offers a wide array of options. From Santa Claus and adorable dogs to doctor scrubs, pickleball, Chinese takeout, video game controllers, and soccer balls, you'll find every ornament you can imagine. Step into this festive realm and experience the joy of Christmas any time of the year!
Fashion Department
An expansive space that pays homage to the world's most iconic fashion capitals. Step into this awe-inspiring room, where the essence of Paris, Milan, New York, and other style destinations comes alive through meticulously curated décor. Here, you'll find a treasure trove of clothing for every occasion, accessories that add the perfect finishing touch, handbags that make a statement, and more. Featuring renowned brands like Joseph Ribkoff, UGG, Wooden Ships Sweaters, and many others, we invite you to indulge in a world of unparalleled style.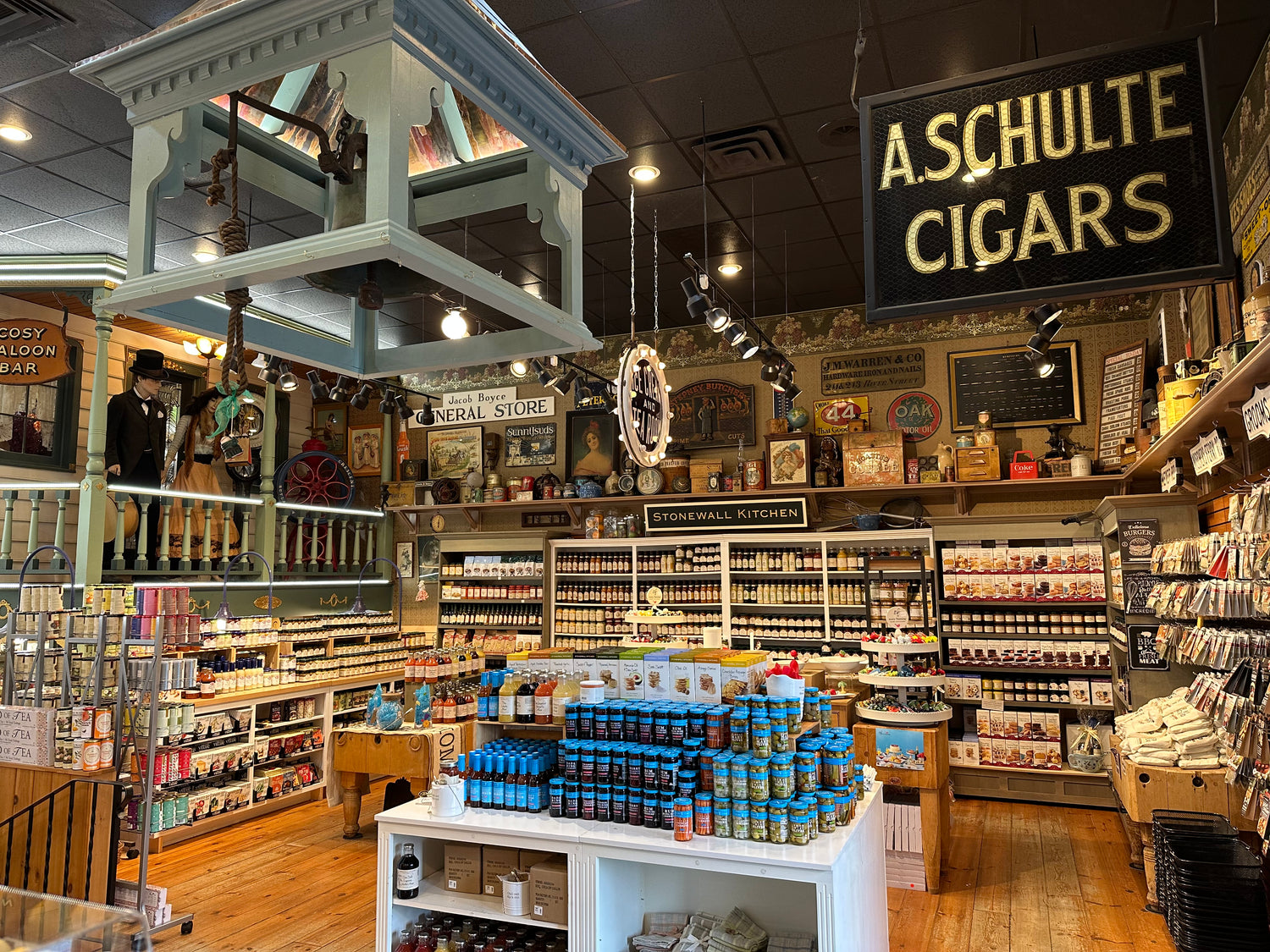 Gourmet Room
This tempting space is dedicated to those with discerning palates and a passion for exquisite flavors. Here, you'll discover a world of gourmet delights, including tantalizing dips, aromatic spices, and delectable jams and jellies. Featuring beloved brands like Republic of Tea, Terrapin Ridge, Stonewall Kitchen and more, our selection is a celebration of culinary artistry and exceptional taste.
Jewelry Room
Located in the heart of the store, this exquisite space is a destination for jewelry enthusiasts seeking a perfect blend of casual and fine jewelry. With a curated selection of beloved brands like T. Jazelle, Meira T., Katie Loxton, Stia, Pandora, and more, we invite you to immerse yourself in a world of timeless beauty and exceptional craftsmanship.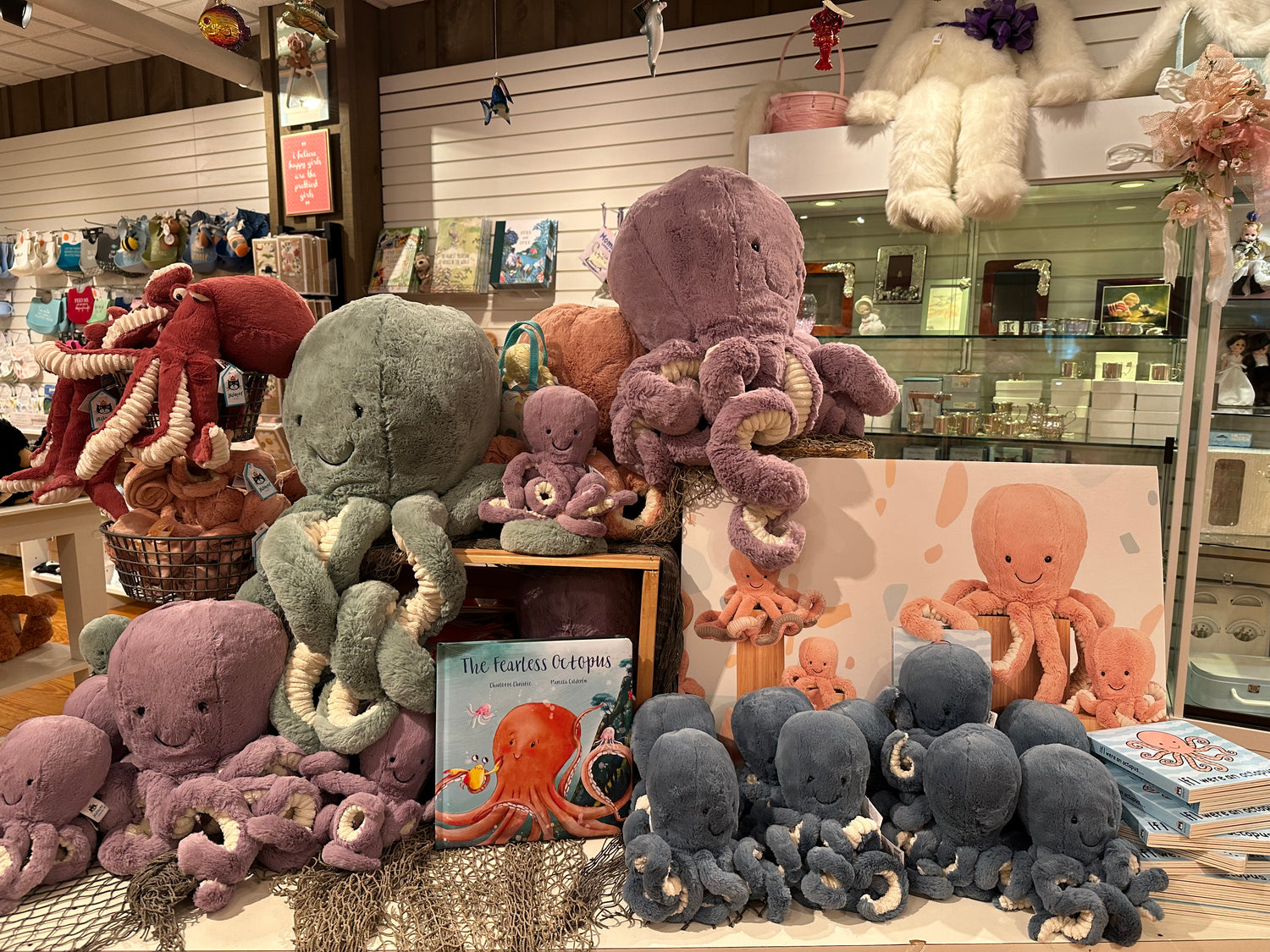 Kids Department
This playland is dedicated to little ones, offering a wide array of stuffed animals, toys, books, and gifts that spark their imagination and bring endless joy. With an extensive collection featuring beloved brands like Mary Meyer, Douglas cuddle toys, Folkmanis puppets, Jellycat and more, we invite you to explore our whimsical selection and create magical moments for the children in your life.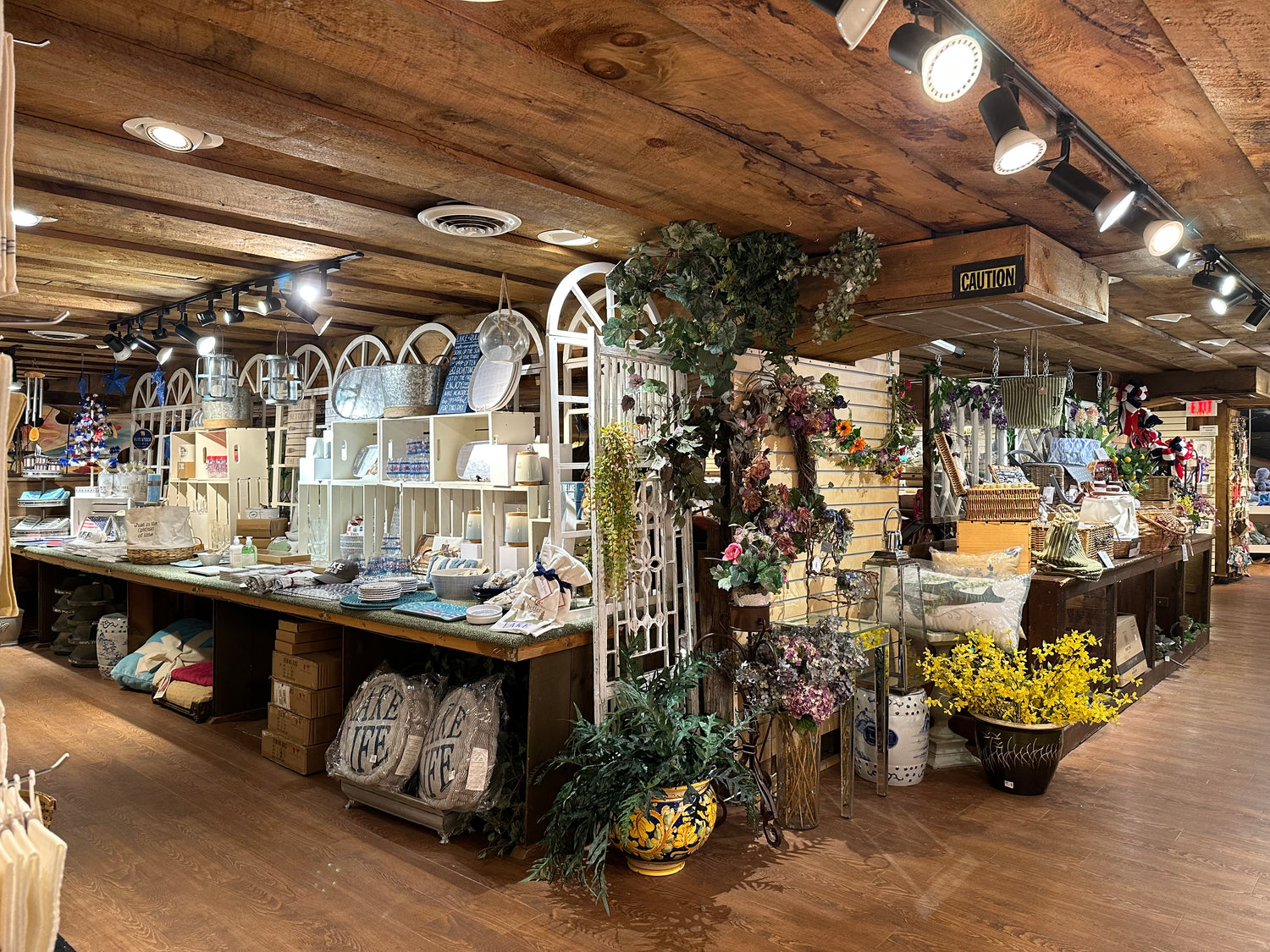 Loft
Ascend to new heights of creativity and discover a world of enchanting treasures in "The Loft." Nestled upstairs, this captivating space is dedicated to decorations, entertaining essentials, and an array of delightful gifts and knick-knacks. With an exquisite collection that sparks imagination and adds a touch of whimsy to any setting, "The Loft" invites you to explore and find the perfect pieces to elevate your home and delight your loved ones.
Street
Take a walk down "The Street," as you wander between other departments in our store. This cozy space is adorned with whimsical antiques and brims with delightful treasures that captivate the imagination. As you stroll along "The Street," you'll discover an array of goodies available for purchase, including candles, lotions, and other delightful finds.
Swarovski Room
Step into a realm of dazzling brilliance and exquisite craftsmanship in "The Swarovski Room." This sparkling space showcases one of the area's largest selections of Swarovski crystals, renowned worldwide for their unparalleled beauty and craftsmanship. Prepare to be captivated by a shimmering world of elegance, as you explore our curated collection of Swarovski crystals in various forms, ready to add a touch of magic to your life.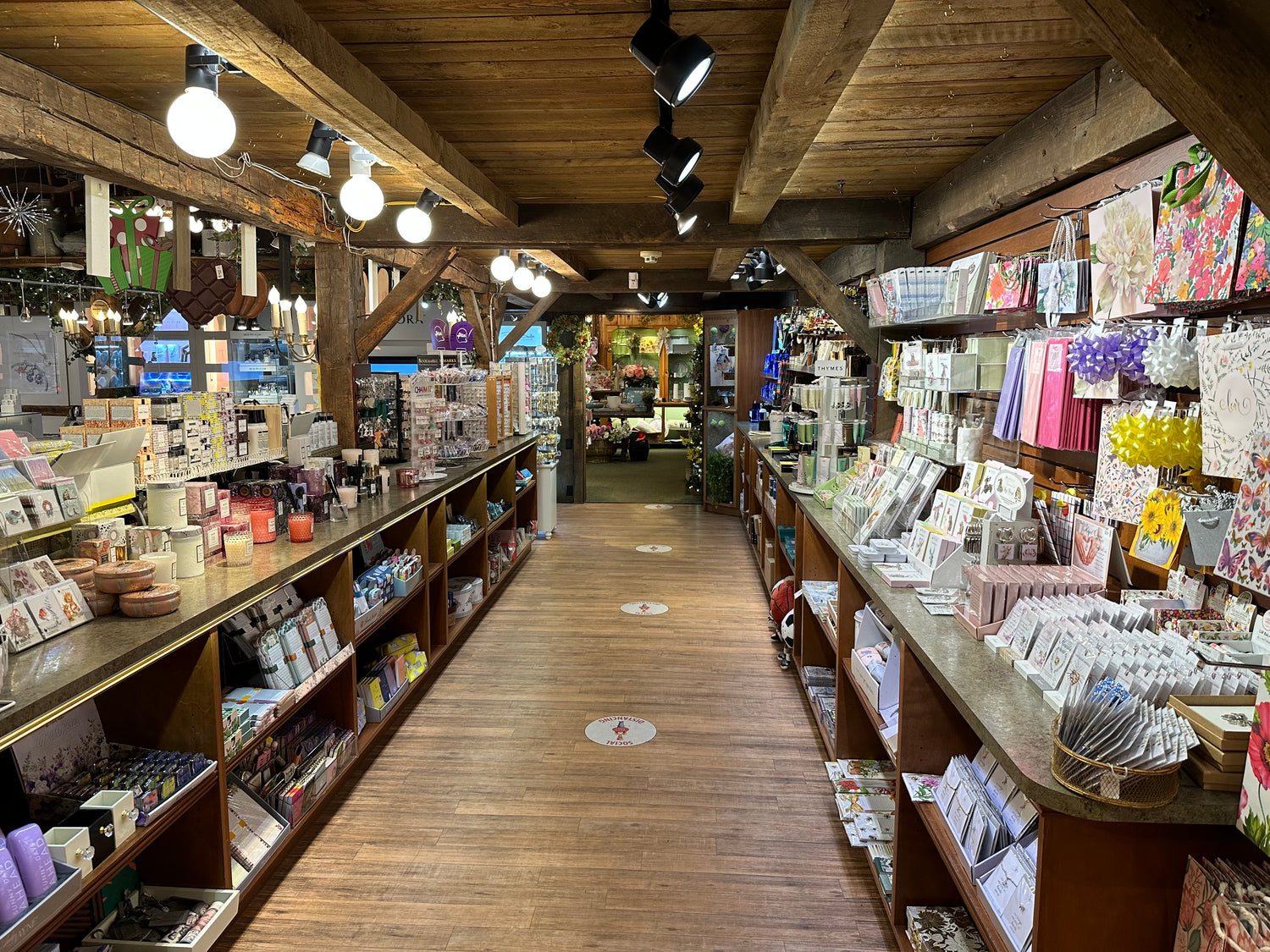 Tunnel
As you make your way to the checkout line, embark on a delightful detour through "The Tunnel." This charming passageway is filled with an array of small goodies, waiting to capture your attention and add the perfect finishing touch to your shopping experience. Browse through a carefully curated selection of giftwrap, small jewelry, and other fun gifts, ensuring that every visit to our store ends with a delightful surprise.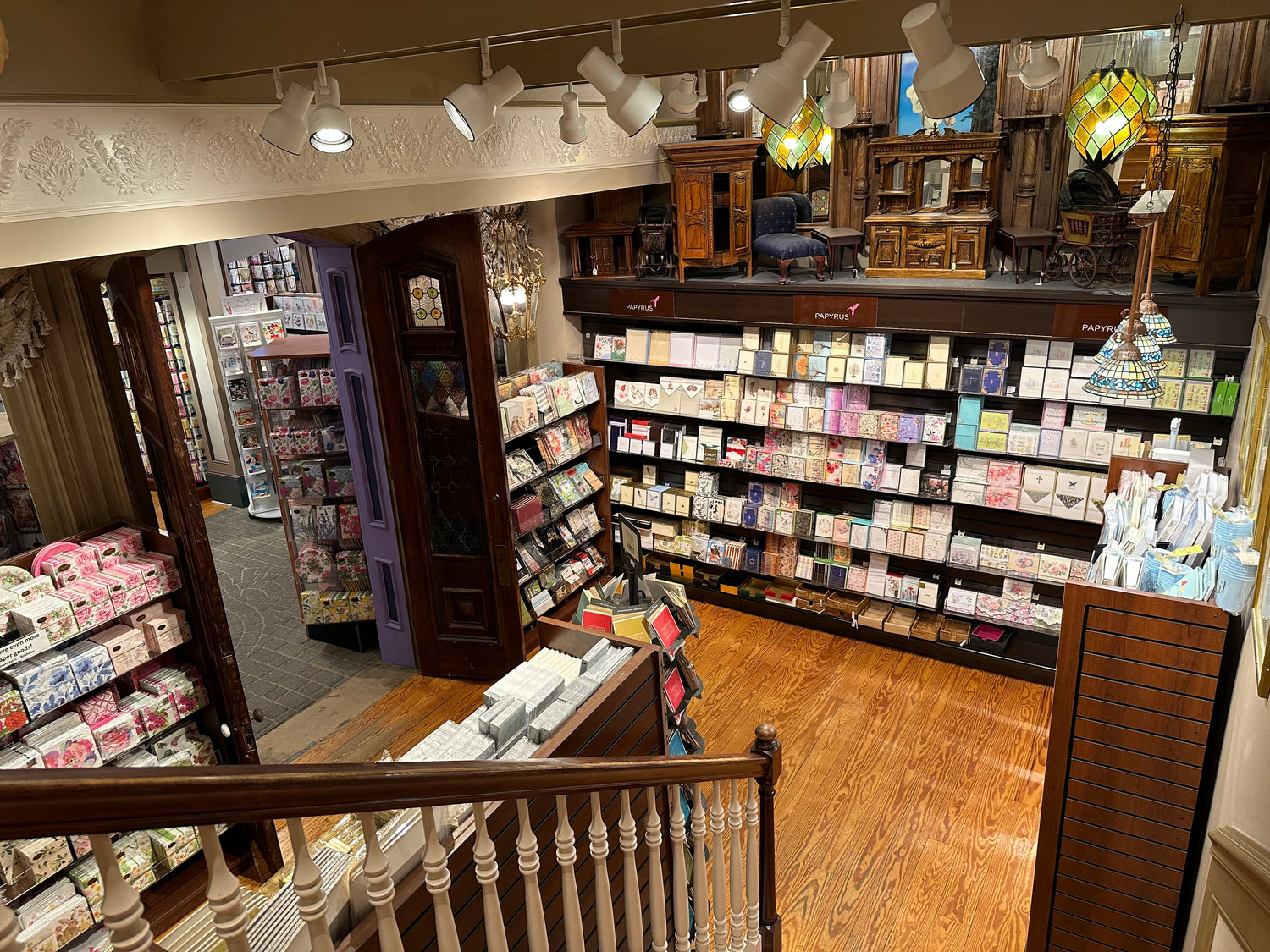 Stationary Room
Step into a world of endless possibilities and thoughtful
expressions in "The Stationery Room." This noteworthy space is a retreat for those who appreciate the timeless art of handwritten notes, announcements, and heartfelt messages. Here, you'll find a captivating assortment of stationery, carefully curated to elevate your writing experience and inspire moments of connection and gratitude.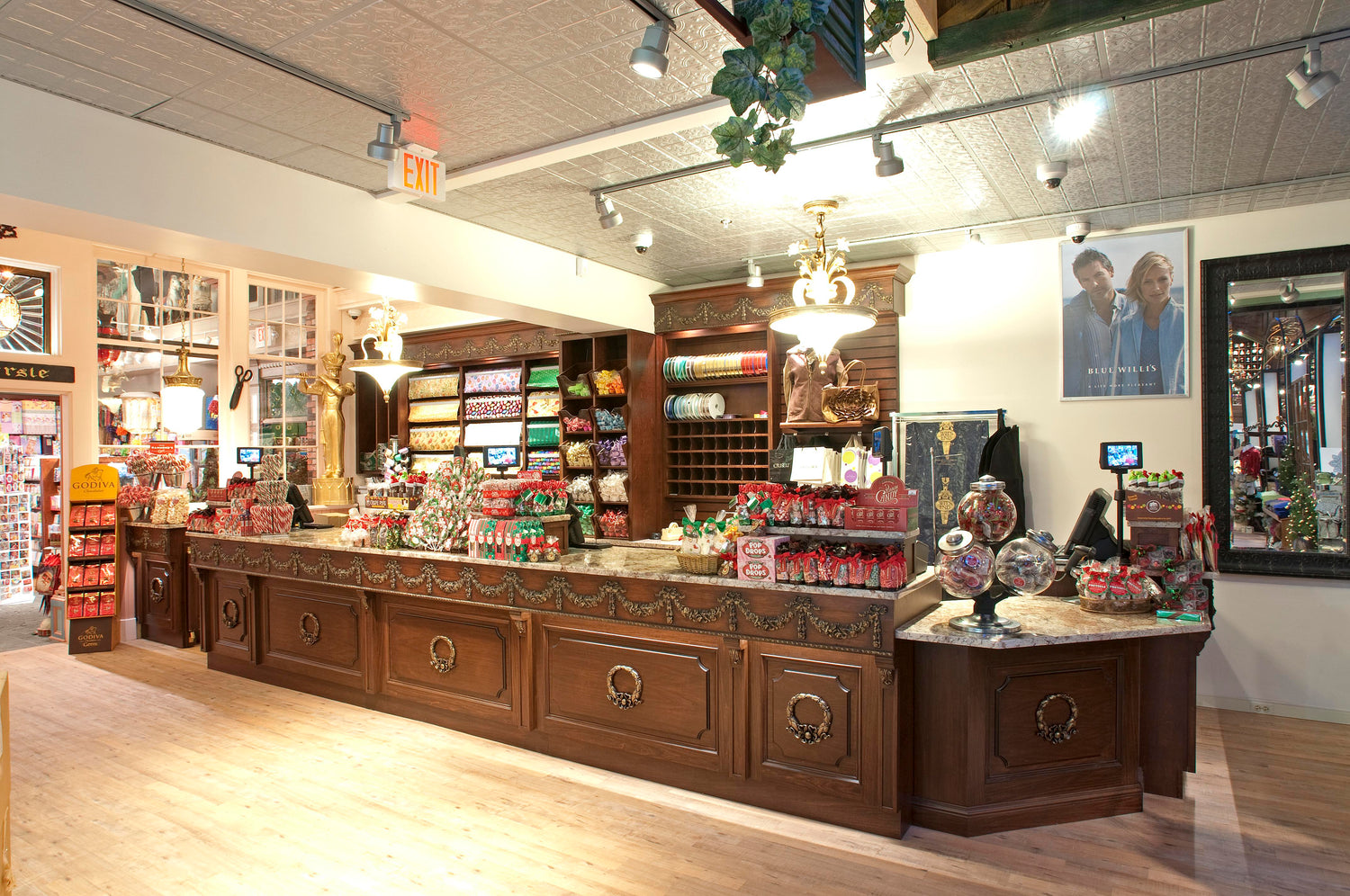 Gift Wrapping Station
The ultimate gift wrapping station, designed to cater to every occasion. From birthdays and anniversaries to holidays and special events, our fully stocked station offers an array of premium wrapping paper, ribbons, bows, and embellishments. Our knowledgeable staff is always on hand to assist you in creating beautifully wrapped gifts that are sure to impress. With our gift wrapping station, turning every present into a work of art has never been easier.